Patsaí Dan Mac Ruaidhrí- King of Tory
Patsy Dan Rodgers is the english version of the real name Patsaí Dan Mac Ruaidhrí.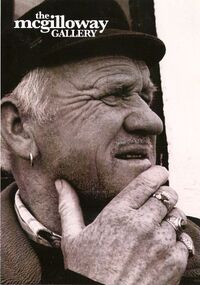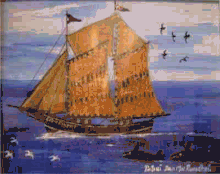 King of Tory Island, Musician (accordion player),Singer, pretty good dancer, Painter, Story Teller, this man was a fisherman and a farmer too. One man, one life, one hundred ways to be a man in life. His biography is the Tory Island History for the last sixty years... Where do I begin to tell this story? May I begin with fado, fado... or it's so much...It's so much... I'll explain further on other Wiki pages how he was elected king. The king is elected, it's a tradition from the 6th century. The role of the King of Tory Island is to regulate conflict, represent his island and take care that everything is alright. Patsy Dan Rodgers was elected in 1994 by the islanders. Before being king of Tory Island, he had already proved his ability to be a leading man. He was one of the biggest voices to struggle against the possibility of leaving the island in the late 70's with the (his?) father O'Peicin.
He is the last painter of the original Tory school of Painting, inspired by Dereck Hill [1] . Painting on Tory Island is so much more than a hobby or even Art itself. It's weird to say this in this way because, of course, Art is many things. Painting allowed Tory Island to become known and recognised, and to assert itself in the world with its very special way of life and culture. If you go to Tory one day, you can't miss him, he is the first person you will see, he has the gift of ubiquity or something like that, he is everywhere, all the time...

 The King Playing accordion. 





--Saskia Levy 22:50, 20 October 2008 (UTC)